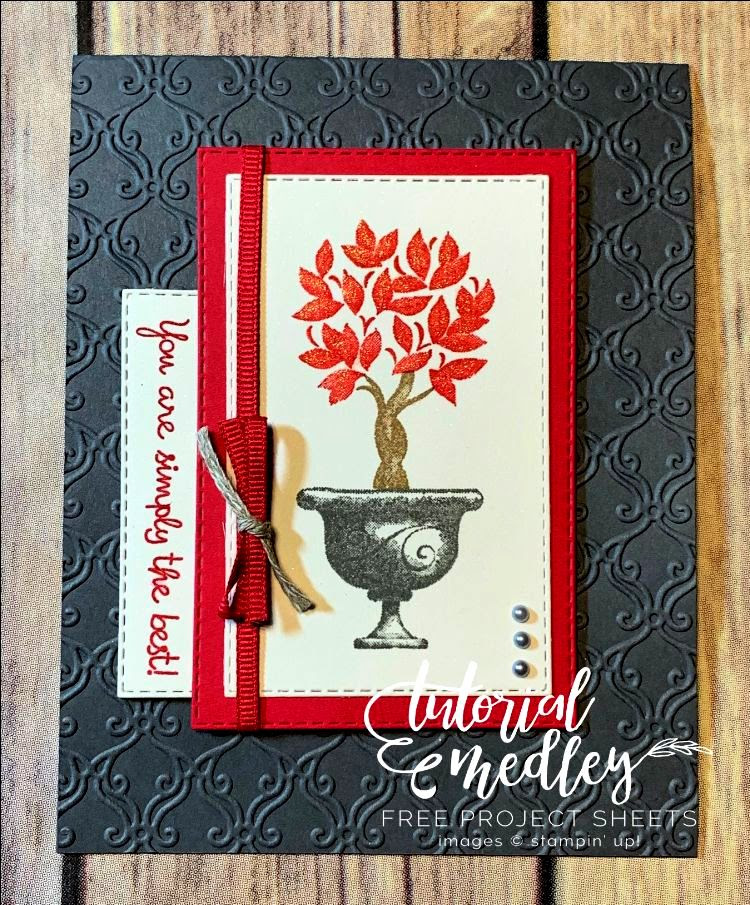 This multi-occasion stamp set with 13 images is RETIRING this week, on January 2. Click on the image to go directly to it.
Supplies:
Stamp Sets: Beauty & Joy (150518), Varied Vases (146644)
Cardstock: Shimmery White (101910), Basic Gray (121044), Lovely Lipstick (146970)
Ink: Lovely Lipstick (147140), Basic Gray (149165), Crumb Cake (147116)
Tools & Accessories: Paper Trimmer (152392), Paper Snips (103579)
Miscellaneous: Stylish Scroll Embossing Folder (150665), Stitched Rectangles Dies (148551), Clear Wink of Stella Glitter Brush (141897), Lovely Lipstick 1/8" Grosgrain Ribbon (146952), 3/16" Braided Linen Trim (147808), Metallic Pearls (146282),SNAIL Adhesive (104332), Stampin' Dimensionals (104430), Multipurpose Liquid Glue (110755), die-cutting and embossing machine, household tape
         
Measurements: 
Basic Gray card base: 4-1/4" x 11", scored at 5-1/2"
Shimmery White: 2-3/4" x 4-1/2" and scrap about 3-1/2" x 1-1/4"
Lovely Lipstick: 4-1/4" x 2-3/4"
Lovely Lipstick ribbon: 4-1/2" and 5"
Braided Linen Trim: about 3-1/2" 
         
Instructions:
Align Stylish Scroll Embossing Folder on card base and run through a die-cutting machine.
Stamp topiary pot in Basic Gray on Shimmery White Cardstock then the stalk in Crumb Cake and, finally, the leaves with Lovely Lipstick. Die cut, so the topiary is centered, with the rectangle that is 2-1/4" x 3-1/2".
Die-cut Lovely Lipstick with rectangle that is 2-5/8" x 4". Adhere this layer to topiary piece with SNAIL Adhesive.
Stamp sentiment with Lovely Lipstick ink on Shimmery White Cardstock. Die cut with rectangle that is 1-5/8" x 2-15/16". Using SNAIL, adhere sentiment to back of Lovely Lipstick so it aligns with the bottom of the Shimmery White topiary piece.
With a very light stroke, brush Wink of Stella over the Lovely Lipstick stamped leaves.
With SNAIL on the back of the Lovely Lipstick Cardstock piece, attach 5" strip of Lovely Lipstick ribbon vertically along left side of the main focal point piece. Secure ends in back with household tape.
Affix the whole focal point piece to the card base with Stampin' Dimensionals.
Fold over 4-1/2" length of Lovely Lipstick ribbon so it appears like an untied bow then tie the Braided Linen Trim around it firmly. Trim ends to even them out with Paper Snips. With a dot of Multipurpose Liquid Glue adhere the bow to the vertical ribbon.
Adhere three Silver Metallic Pearls in lower right corner of topiary piece.
Allow ribbon to dry.
Remember, you do not have to invent the wheel to be creative, just copy this project! Did you make it with your own hands? Then you have created!
Order by clicking on any image in this email or by linking to my ONLINE STORE.